Day 1 :
Keynote Forum
Professor of Environmental Engineering University of Southern California
Time : 9:00 AM

Biography:
Prof Constantinos Sioutas has completed his PhD in 1994 at Harvard. He is the Fred Champion Professor of Environmental Engineering at the University of Southern California and the director of the aerosol group. He has published more than 350 papers in reputed journals and has been serving as an editorial board of several journals including Science of Total Environment and Atmospheric Environment.
Abstract:
Air traffic is rapidly growing, raising concerns about the air pollution in the surroundings of airports and its impact on public health. However, little is known about the impact of air pollution sources on air quality and health in the vicinity of airports. In this study, the sources and adverse health effects of airport-related ultrafine particulate matter (PM) were investigated and compared to those of urban traffic emissions. Ambient nanoparticles (PM0.25, smaller than 250nm) were collected at the Los Angeles International Airport (LAX) and at a central Los Angeles site (USC campus), along with nanoparticles collected directly from turbine and diesel engines. The particle chemical composition, oxidative potential (OP) (ascorbic acid (AA), and electron spin resonance (ESR) assay) as well as their reactive oxygen species (ROS) activity, inflammatory potential (interleukin (IL) 6 and 8 and tumor necrosis factor (TNF) –α) and cytotoxicity on human bronchial epithelial (16HBE) cells were assessed. Chemical composition measurements confirmed that aircraft emissions were the major source to LAX nnaoparticles, while the sources of the USC samples were more complex, including traffic emissions, suspended road and soil dust, and secondary aerosols. The traffic-related transition metals (Fe and Cu) in LAX and USC samples mainly affected OP values of particles, while multiple factors such as composition, size distribution and internalized number of particles contributed to the promotion of ROS generation in 16HBE cells during 4 h exposure. Internalized particles in cells might also play an important role in activating inflammatory responses during cell recovery period, with LAX particles being more potent. Our results demonstrated considerable toxicity of airport-related particles, even at low exposure concentrations, suggesting that airport emission as source of nanoparticles may also contribute to the adverse effects on public health attributable to PM. The potency of such particles is in the same range as those collected at a site in urban area impacted heavily by traffic emissions.)
Keynote Forum
IIT Bombay ( Retd.) Chairman SSPC India
Time : 09:00AM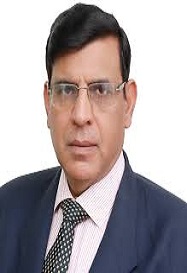 Biography:
Prof. A.S.Khanna, full professor Indian Institute of Technology, Bombay. He also worked as Deputy Director, IIT Indore for 7 months on Deputation from IIT Bombay. He is in Metallurgy at Indian Institute of Technology, Bombay for almost 22 years. He joined IIT Bombay in 1991, after completing 15 years as Scientific officer, IGCAR, Kalpakkam, fast Reactor project of Atomic Energy. He is specialist in High Temperature Corrosion, high temperature coatings, organic coatings and surface modifications. He has guided more than 13 students and another 10 students are working under his guidance for Ph.D at IIT Bombay. Prof. Khanna has more than 36 years of experience on various aspects of corrosion. He has more than 250 publications in reputed International Journals and Conference proceedings and chapters in books. He has written two books, published by ASM International and Woodhead publicartion, UK. And edited four books.
Abstract:
There is almost a new application of Graphene being discussed everyday, Whether, it is in electronics to enhance the memory of micro-devices, increase in the efficiency of batteries, water filtration or to make room air-heaters, Graphene is capable of creating the new application. We have worked on new applications of Graphene in making advanced coatings, suitable for highly aggressive environments or creating a new thinnest coating on automobiles or coil coatings or to create highly conductive coating. We have already filed a patent on the development of highly conductive coatings using graphene. However, the main limitation is the availability of pure and defect free Graphene in large industrial scale quantity. Though, there are various methods to prepare graphene based on treatment using strong acids, high shear exfoliation method, CVD and many others, we have used a new method called Pressure Exfoliation method to make industrial scale Graphene. It is a totally eco-friendly method without use of any strong chemical or heat and the product formed is with a yield of 15%. The Graphene prepared is 3-4 layer thick.
We have used the Graphene prepared using this method to make thin Graphene coatings which has strong corrosion and erosion resistance. We also used the Graphene as a anti-corrosion pigment to replace zinc in zinc based primers and made conductive coatings with conductivity of 11 S/cm. Several applications have been made on industrial buildings and performance has been found excellent.